Carpets bring warmth, comfort, and style to any home. However, they can also be magnets for stains. Anything from a spilled glass of wine to muddy footprints can cause a headache. This article will provide DIY methods for cleaning carpet stains.
Food stains are common. Greasy pizza slices and dropped plates of spaghetti can be tough to tackle. Blot up as much of the stain as possible with a clean cloth or paper towel. Then, mix one tablespoon of dish soap with two cups of warm water. Use a clean white cloth to apply the solution to the stain. Gently blot until it's gone.
Pet urine can be a problem too. Blot up any liquid with paper towels or a clean cloth. Make a solution of one cup of white vinegar and two cups of warm water. Use a spray bottle to apply to the stained area. Let it sit for ten minutes before blotting with a clean cloth.
Coffee and tea stains are also common. Begin by blotting up any excess liquid with a paper towel or cloth. Make a mix of one teaspoon of mild detergent and one cup of warm water. Use a sponge or soft brush to apply the solution to the stain. Scrub in circular motions until the stain lifts.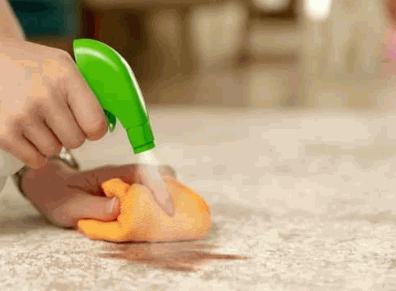 Understanding Carpet Stains
Tackling tough carpet stains? Here's what you need to know.
First, identify the stain: food, pet urine, ink, etc.
Time is of the essence; act fast!
Avoid harsh chemicals and blot, not rub.
Test any cleaning solution first.
Still no luck? Professional help may be needed.
Remember, don't rub the stain – blot it.
For stubborn stains, try hydrogen peroxide and dish soap.
Clean carpets are possible – know the nature of the stain and follow these tips!
Necessary Supplies For DIY Carpet Stain Removal
You need special supplies to ensure success when removing carpet stains on your own. Get a high-quality carpet stain remover that can take on wine, coffee, or pet urine. Also, you'll need a white cloth or paper towel for blotting, a plastic scraper or spoon to remove solid residue, and an old toothbrush to work the remover into the fibers. Warm water and a wet vacuum cleaner can come in handy too. Wear gloves to protect your hands from harsh chemicals.
Remember, different stains need different treatments. Fresh liquid spills may only need cold water and blotting on a white cloth. But tougher stains like red wine or grease need a specialized remover and gentle scrubbing. Read the instructions on the product and test it on an inconspicuous area first. This way, you'll maintain the color of your carpets and keep them clean.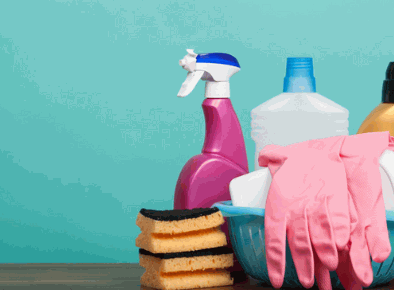 Preparing The Stain Removal Solution
To effectively tackle carpet stains, it is essential to prepare the stain removal solution properly. Follow this three-step guide for optimal results:
Identifying the right cleaning agents: Determine the type of stain and choose the appropriate cleaning agents accordingly. Different stains require different treatments, so consult a stain removal guide or refer to the carpet manufacturer's recommendations for the best results.
Mixing the solution: Once you have selected the appropriate cleaning agents, mix them in the correct proportions to create the stain removal solution. Follow the instructions provided on the cleaning product labels and ensure that the solution is well-blended before application.
Testing on a small, inconspicuous area: To avoid any potential damage or discoloration, it is crucial to perform a patch test. Apply a small amount of the stain removal solution on an unseen area of the carpet and observe any adverse reactions. If there are no negative effects within a few minutes, you can proceed to treat the actual stain.
Remember, each stain requires a unique approach, so it is important to choose the right cleaning agents and test the solution before applying it to the affected area. It is also recommended to wear gloves and work in a well-ventilated area to ensure safety during the stain removal process.
Pro Tip: Blot the stain gently with a clean, white cloth or paper towel, starting from the outer edges and working your way toward the center. This technique prevents the stain from spreading and ensures more effective stain removal.
Uncork the power of vinegar and baking soda to banish carpet stains like a CSI detective, without the need for a crime scene cleanup crew.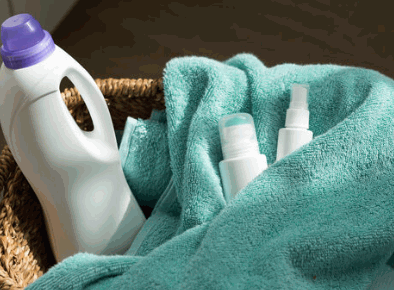 Option 1: Vinegar And Baking Soda
Vinegar and baking soda? A powerful stain solution! It works wonders. Here's how:
Mix equal parts of vinegar and baking soda in a bowl.
Stir until it has a paste-like consistency.
Apply it to the stain with a sponge or cloth.
Gently rub it in.
Leave it for at least 10 minutes.
Rinse it off with cold water.
Lastly, launder.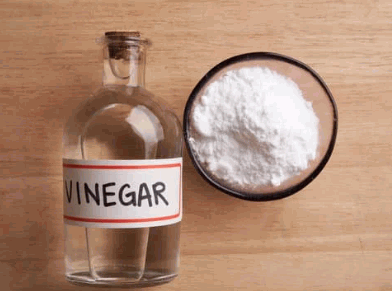 Why use expensive removers when you can use this affordable and eco-friendly option? Give vinegar and baking soda a try next time you need to get rid of stubborn stains!
Option 2: Dish Soap And Hydrogen Peroxide
If you like to use dish soap and hydrogen peroxide to remove stains, here is a simple solution. Combining these two things can help with stubborn marks on different surfaces.
To make the stain removal solution with dish soap and hydrogen peroxide:
Put equal amounts of the two together.
Stir lightly until mixed.
Put the mix on the stained area.
Let it sit for a few minutes.
Rinse the spot with water.
Dry with a clean cloth.
This process may work well for removing tough stains from clothes, carpets, and upholstery. Before using it, test it on a small area to check if it's okay with the surface or fabric.
Tip: The sooner you treat a stain, the better the chances it won't set in.
Testing The Solution In A Hidden Area
Before using a cleaning solution on your carpet, it's crucial to test it in an obscure spot. Use a clean cloth or sponge to apply a small amount of the solution. Gently blot and leave it for 10 minutes. Then check for any color or texture changes. If there are none, you can use the solution with confidence. Different carpets can react differently, so testing is a must.
Did you know that vacuuming regularly can remove 70-80% of dirt and dust in carpets?
Step-By-Step Instructions For Removing Common Stains
Identify the Type of Stain: Begin by identifying the specific stain you're dealing with, such as red wine, coffee, or pet urine.
Blot the Stain: Using a clean cloth or paper towel, gently blot the stain to remove any excess liquid or residue. Avoid rubbing, as this can spread the stain.
Prepare a Cleaning Solution: Mix a cleaning solution appropriate for the type of stain. For example, for food stains, combine warm water with dish soap or vinegar.
Apply the Cleaning Solution: Using a sponge or clean cloth, apply the cleaning solution to the stained area. Work from the outside of the stain towards the center to prevent spreading.
Blot and Rinse: After letting the cleaning solution sit for a few minutes, blot the stain again with a clean cloth. Then, rinse the area with clean water and blot until dry.
To further optimize stain removal, consider using professional carpet cleaning services. They possess the expertise and equipment to effectively eliminate stubborn stains.
Don't let carpet stains ruin the appearance of your home. Act promptly to remove them and restore the beauty of your carpets.
If you spill red wine on your carpet, just remember, it's not a stain, it's a work of abstract art.
Food And Drink Stains
Identify the stain type first. Different stains require different treatments. For instructions, check the table below:
| Stain Type | Instructions |
| --- | --- |
| Coffee | Blot up liquid. Blot with soap and water. Rinse with cold water. |
| Red Wine | Blot up excess with a cloth or paper towel. Dab with white vinegar. Rinse with cold water. |
| Grass | Soak in cold water for 15 mins. Use pre-wash stain remover and wash. |
| Tomato Sauce | Gently scrape off the sauce. Apply liquid detergent. Wash in the hottest allowed temp. |
| Chocolate | Carefully scrape off the chocolate. Use prewash stain remover/liquid detergent. Wash in warm water. |
For other food/drink stains, use general rules. Blot excess liquids. Use appropriate cleaning agents for fabrics.
Pro Tip: Act fast when treating food/drink stains to stop them from setting into the fabric.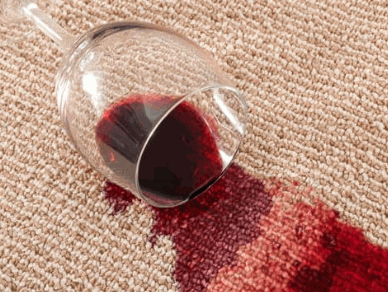 Pet Stains
Pet stains can be a real challenge. But, no need to worry! With the right tactics, you can banish those marks for good. Here are a few tips:
Be speedy: Clean up any mess as soon as you see it. Gently blot the area with a paper towel or cloth.
Get rid of solids: Use gloves or a plastic bag to pick up any waste and throw it away. Don't scrub or smudge the spot further.
Blot with a cleaner: Create a mild detergent solution with warm water and apply it to the stain. Blot from the outside edges towards the center.
Neutralize odors: After cleaning, use an enzymatic cleaner designed for pet stains. This will help get rid of odor-causing bacteria.
Remember to avoid harsh chemicals. Your carpets and pets will thank you.
Additionally, check if your carpet manufacturer has specific instructions for stain removal. You may need to repeat the process for tough stains.
Patience and persistence are key when it comes to dealing with pet stains. Follow these steps and keep your home clean and your furry pals happy.
Oil and grease stains can be quite tough to get rid of. But, with the right tips, you can easily remove them from any surface.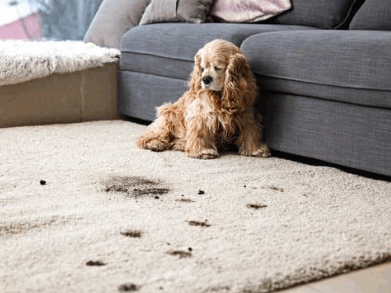 Oil And Grease Stains
Dab the stain with a white cloth or paper towel to absorb the oil/grease.
Sprinkle baking soda, cornstarch, or talcum powder onto the stain.
Gently rub it in using a soft-bristle brush or your fingers.
Let the powder sit for at least 15 minutes, then remove the residue with a vacuum or brush.
For more difficult oil/grease stains:
Apply a bit of dish detergent directly to the stain.
Gently dab at it with a damp sponge or cloth (no scrubbing).
Rinse with warm water and blot dry.
Repeat steps if needed.
Remember, different surfaces may need different cleaning methods. For instance, pretreat clothes with a stain remover before washing.
To prevent future stains:
Don't put oily/greasy items on surfaces that are prone to staining.
Use protective mats/covers in areas where spills are likely.
Regularly clean surfaces to keep oil/grease residue away.
In industrial settings, implement safety protocols and provide protective gear.
With these instructions and tips, you can keep oil/grease stains away from any surface, and ensure it stays clean.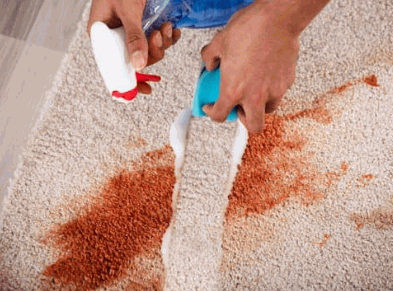 Tips For Effective Carpet Stain Removal
Dealing with carpet stains can be a daunting task, but with the right techniques, you can effectively remove them. Here are some tips to help you tackle carpet stains:
Blot the stain: As soon as you notice a stain, blot it gently with a clean cloth or paper towel. Avoid rubbing, as this can spread the stain and damage the carpet fibers.
Use club soda: For many common stains like coffee or red wine, pouring club soda over the stain and blotting it can help lift the stain.
Try a vinegar solution: Mix equal parts white vinegar and water and apply it to the stain. Let it sit for a few minutes before blotting it up with a clean cloth.
Baking soda for odor removal: If the stain has left an unpleasant odor, sprinkle some baking soda over the area and let it sit for a few hours before vacuuming it up.
Use a carpet stain remover: There are various commercial carpet stain removers available in the market. Follow the instructions on the product to effectively remove the stain.
Consider professional cleaning: If the stain persists or is particularly stubborn, it may be best to seek professional carpet cleaning services.
Remember to act quickly when dealing with stains and always test any cleaning solution on a small, inconspicuous area of the carpet before applying it to the stain.
Furthermore, it's worth noting that regularly vacuuming and treating your carpet with a stain-resistant spray can help prevent stains from setting in.
Did you know? The history of carpet cleaning dates back to ancient times. In early civilizations, people would clean their carpets by beating them with sticks or scrubbing them with water and brushes. Over time, various techniques and tools have been developed to make carpet cleaning more efficient and effective. Today, we have access to a wide range of stain removal products and professional cleaning services to help keep our carpets clean and fresh.
Spilled wine on your carpet? Act fast, or your floor might turn into an abstract art masterpiece.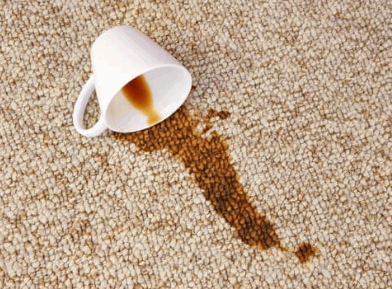 Acting Quickly
Time is essential when it comes to carpet stain removal. Act fast and you have a better chance of completely removing the stain. Here's a 3-step guide to help you out:
What made the stain? Identify the source to discover the best cleaning method.
Blot, don't rub! Gently blot the stain with a cloth or paper towel. Don't rub – this could push the stain further in.
Find the right cleaner: Depending on the type of stain, use an appropriate cleaning solution. Follow the instructions on the packaging and use a clean cloth or sponge to gently dab at the stain.
Don't rush through these steps – take your time to make sure you don't damage carpet fibers. Plus, test any cleaning solution or product on a small area first. Don't use bleach on colored carpets – it causes discoloration. If the stain's stubborn, get professional help from a reputable carpet cleaning service.
So, remember: act fast and do it right for effective carpet stain removal. Follow the correct steps and use the right cleaners to maintain the beauty of your carpets!
Blotting Rather Than Rubbing
Blotting is key for stain removal! Pressure with a clean cloth or paper towel absorbs the stain, preventing it from going deep into the fibers. And, this stops smearing across a larger area, with no damage to fibers or color distortion.
Blotting is great for liquid spills and fresh stains. So, if it's a tough stain, a professional cleaner can help. A reminder of this: a friend once spilled red wine on her white carpet and tried rubbing. But, it spread more. Professional cleaning saved the day with proper blotting techniques!
Using A White Cloth or Paper Towel
Using a white cloth or paper towel is key for removing carpet stains. It absorbs the liquid and stops the stain from getting bigger. Here are tips to make the most of this technique:
Blot, don't rub: Gently dab the stained area with a cloth or paper towel. Rubbing can make it harder to remove the stain.
Start on the outside: Start blotting from the outer edges and gradually move to the center. This stops the stain from spreading.
Don't use too much moisture: Use a little water or cleaning solution on the cloth or towel. Too much moisture can damage the carpet fibers and lead to mold.
Keep changing clothes: As you go on, use a clean section of the cloth or a fresh paper towel. This stops residue from transferring back onto the carpet.
Be patient: Stain removal takes time, especially for tough stains. Keep blotting until no more color transfers onto the cloth.
Test before applying chemicals: If using a cleaning solution, test it on an unseen part of your carpet first. This stops discoloration or damage.
To make the most of stain removal, consider using a gentle carpet cleaner.
Did you know that this technique has been around for centuries? Its simplicity and versatility have stood the test of time. So next time you have a stubborn carpet stain, reach for your trusty white cloth or paper towel for a reliable and effective solution.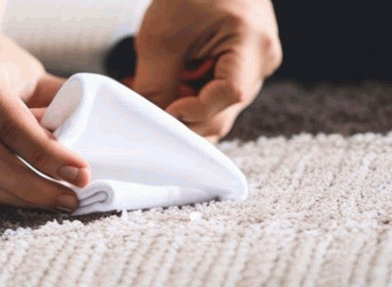 Preventing Future Carpet Stains
Preventing Future Carpet Stains can be achieved by following these simple steps:
Regularly vacuum the carpet to remove dirt and debris.
Place doormats at all entrances to trap dirt and moisture from shoes.
Use carpet protectors or rugs to cover high-traffic areas.
Attend to spills immediately by blotting the liquid and avoiding rubbing.
Implement a no-shoes policy in your home to prevent dirt and stains from being tracked onto the carpet.
To further protect your carpet, consider using stain-resistant treatments or scheduling regular professional cleanings. Small habits such as removing shoes before entering the house and regular vacuuming can significantly reduce the risk of future carpet stains.
A study conducted by Cleaning Research International revealed that implementing a no-shoes policy can reduce the amount of dirt and bacteria brought into the home by 80%.
Vacuuming your carpet regularly will not only remove dirt and debris but also a surprising amount of your sanity as you ponder how it's possible for your family to shed so much hair.
Regular Vacuuming
Vacuum your carpet weekly for a clean and fresh look. Use a vacuum with strong suction and attachments like a crevice tool or upholstery brush for hard-to-reach areas. Use overlapping strokes and slow movements for thorough cleaning. Clean your vacuum collection bag or canister periodically for optimal performance.
If you have pets that shed fur, use a pet-specific vacuum attachment or brush to remove stubborn hair. Be cautious when using vacuums on delicate carpets or those with fringe trim, as too much force may cause damage.
Vacuuming regularly is key for preventing carpet stains. It's a simple yet effective practice that saves you time and money while keeping your home clean and beautiful.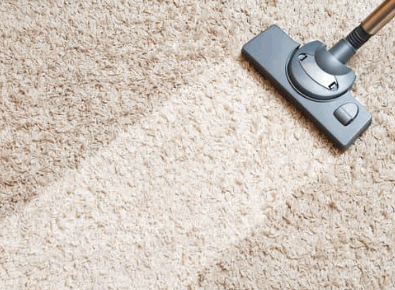 Prompt Cleanup Of Spills
Spills must be tidied up straight away to prevent future carpet stains. Acting fast can lessen the liquid soaked into the carpet, avoiding long-term harm.
Here are the steps to take:
Blot the spill at once with a clean cloth or paper towel. Do not rub, as this may spread the stain and make it go deeper into the fibers.
Mix a little amount of dish soap with warm water, and use a sponge or soft-bristled brush to lightly scrub the affected area. Blot again to take away any extra liquid.
Thoroughly rinse the area with clear water to remove any leftover soap residue. Then blot again until dry.
If the stain remains, look into using a carpet cleaner specifically made for this purpose or call a professional carpet cleaning service.
Carpet maintenance like vacuuming and regular deep cleaning can also help keep stains away and make your carpet look great.
Keep in mind that prevention is the best way to protect your carpets. Be careful where you put drinks and take preventive measures to stop accidents.
Statistics from HomeAdvisor show that 21% of homeowners spend between $200 and $400 on carpet cleaning annually. So taking precautionary steps to prevent stains can save you money and time in the long run.
Using Stain-Resistant Treatments
Scotchgard is top-notch for stain resistance. Teflon delivers medium protection. MicroSeal gives low defense.
Note that these treatments can wear off. So, it's essential to vacuum and clean spills regularly.
Pro Tip: Consider factors such as longevity, durability, and carpet material when picking a stain-resistant treatment.
Explore further: Can You Clean A Sofa With A Carpet Cleaner
Conclusion
Carpet stains can be a pain, but with the right methods, they can be defeated! Follow the steps in this article, and you'll be able to say goodbye to those troublesome stains.
We've looked at many ways to clean carpet stains with everyday items or special cleaners. From vinegar and baking soda to dealing with pet messes, wine spills, or food stains, we've got it covered.
Another factor to consider is regular maintenance. Vacuuming often, and acting quickly to address any spills or accidents, can help to prevent permanent stains and keep your carpet looking great.
Pro Tip: Test any cleaning solution on an unseen area of the carpet before you apply it to a bigger area. This way you won't have to worry about any damage or discoloration.
Now you know how to effectively clean carpet stains on your own. So it's time to get started and get rid of those blemishes!