Can you use a carpet cleaner on a sofa? Yes, but be careful! Select a cleaner specifically designed for upholstery or multi-surface cleaning. Spot test an inconspicuous area of the sofa before using it on the entire piece. Read the manufacturer's instructions for your sofa, too. Then, vacuum the sofa to remove dirt and debris. Apply the cleaner according to the instructions and use gentle strokes. Let the sofa dry completely before using it again. Get your furniture sparkling clean with a carpet cleaner and enjoy a fresh living space!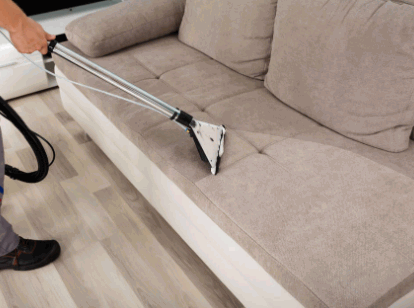 Understanding The Cleaning Process
Cleaning sofas with a carpet cleaner involves several key components. Let's take a closer look at them!
See the table below for details:
| Step | Description |
| --- | --- |
| Preparing the sofa | Remove any loose debris or dirt. Helps achieve an even cleaning. |
| Testing | Before cleaning, test a small area with the chosen solution. To ensure compatibility and prevent damage. |
| Spot treatment | Apply an appropriate spot treatment for stains or spots. Gently agitate to break down and loosen stubborn stains. |
| Cleaning | Use a carpet cleaner with an upholstery attachment. Clean all areas, including crevices and corners. |
| Drying | Allow time for the sofa to dry completely before use. This prevents mold or mildew growth. |
Also, different fabrics may require specific cleaning methods or solutions. Refer to manufacturer instructions or consult a professional if unsure.
Fun fact: Professional upholstery cleaners have specialized equipment and knowledge. This ensures a deep clean and minimizes potential damage.
Check out: Cleaning a Couch With Baking Soda
Preparing The Sofa For Cleaning
As a pro sofa cleaner, pre-cleaning preparation is a must. So, here are the steps to make it thorough and efficient:
Remove any loose debris, e.g. crumbs, pet hair, and dirt, from the sofa surface. A vacuum cleaner or soft brush can help.
Look out for stains and spills. Identifying them beforehand helps with stain removal techniques later.
Dust off the sofa's surface and corners. This prevents hidden dust from interfering with deep cleaning.
Test in an inconspicuous area, to ensure compatibility and prevent damage/discoloration.
Cover other furniture near the sofa, with sheets or plastic covers. This avoids contact with cleaning solutions/moisture.
Get suitable upholstery cleaning solutions for the sofa fabric type.
Now that the pre-cleaning is done, let's begin restoring pristine condition!
Did you know? Pre-cleaning sofas have been done for centuries. People used traditional methods, like beating cushions with sticks and airing them outside under sunlight, to remove dust particles. These methods formed the basis for modern-day sofa maintenance protocols.
Using A Carpet Cleaner On The Sofa
Can you clean a sofa with a carpet cleaner? Yes! It's an effective way to remove dirt, stains, and odors. It's not difficult. Here's a 3-step guide:
Step 1: Prep the Sofa. Remove debris like crumbs or pet hair first. Use a vacuum cleaner with a brush attachment. This will help loosen and lift dirt from the sofa surface.
Step 2: Test in a Hidden Area. Test the cleaner on a small, hidden part of the sofa. This will avoid discoloration or damage to the fabric. Apply a small amount of the solution and blot with a clean cloth.
Step 3: Clean the Sofa. Follow the instructions on the cleaner and choose the right cleaning solution. Apply it evenly and scrub gently with the upholstery attachment. Suction away dirt and stains.
Allow time for drying. A clean sofa looks great and creates a healthier environment. Give your sofa some TLC with a carpet cleaner today!
Learn more: How To Clean Suede Sofa Carpet Machine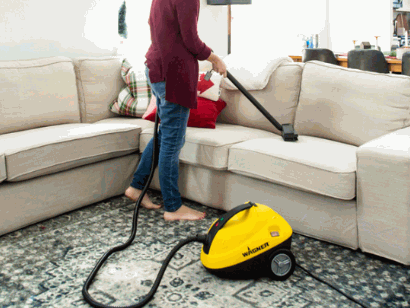 Drying And Finishing Touches
To get that clean, perfect sofa, here's what you need to do:
Blot any moisture with a towel or cloth.
Let it air dry in a well-ventilated area. Try opening windows or using fans to speed up the process!
Fluff and reshape cushions to restore their original shape.
Vacuum the surface with an upholstery attachment.
Spot treat if any stubborn stains remain.
Apply fabric protector spray (optional).
Remember, different types of upholstery may require different techniques or products. Check the manufacturer's instructions or seek professional help.
Additional Tips And Recommendations
When it comes to cleaning a sofa with a carpet cleaner, there are some extra tips to keep in mind:
Firstly, use the right attachment for upholstery cleaning. This will stop any damage to the fabric.
Test the carpet cleaner solution on a small, hidden area. This will help you check if the solution is safe for your particular sofa material.
Read and follow the manufacturer's guidelines for safe and effective cleaning.
Be careful with delicate fabrics such as silk or velvet. Gently dab the cleaner and avoid too much moisture.
Allow your sofa to dry completely before using it again. This prevents mold or mildew growth.
Vacuuming your sofa regularly between deep cleanings can also help.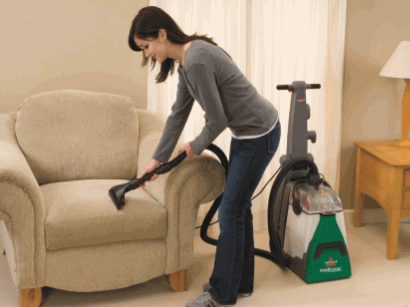 Conclusion
When it comes to cleaning your sofa, don't take the risk of using a carpet cleaner! The powerful suction can damage the upholstery fabric and it won't be as effective for stains and odors. It's best to use special upholstery cleaners or get help from a professional.
To preserve your sofa's condition, always vacuum and spot clean with the right cleaners. Besides that, it's a good idea to get professional deep cleaning treatments from time to time. This will keep your sofa looking fresh and inviting for years!