Maintaining leather furniture is essential to keep it beautiful and long-lasting. It's a natural material that needs special care to stay in good shape. By following the right routine, you can ensure its quality and look for years to come.
Clean it regularly. Use a soft cloth or a vacuum cleaner with a brush attachment to remove any dust or dirt from the surface. This stops it from settling into the leather and causing damage.
Moisturize regularly too. Follow the instructions on the bottle to apply a leather conditioner with a clean cloth. This keeps the leather soft and supple.
Protect it from direct sunlight and heat sources. These can cause fading, drying, and even warping. Move it away from windows or use curtains or blinds to block the sun.
If something spills, blot it with a cloth. Rubbing can push the liquid deeper into the leather. For tough stains, call a professional cleaner.
Pro Tip: Stick to a schedule for cleaning and moisturizing. This will protect it from wear and tear.
Follow the manufacturer's guidelines for tailored care instructions for your leather type. Do this and you'll enjoy its beauty for many years!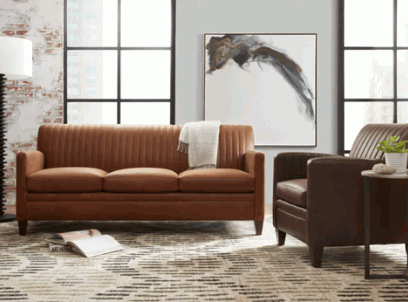 Understanding Leather Furniture
Leather furniture is an investment worth making. It requires special care and attention. Remember: leather is a natural material, so it can wear and tear. But don't fret! With the right knowledge and care, you can keep it looking luxurious.
Clean your leather furniture regularly with a soft cloth or vacuum. Wipe up spills quickly using a damp cloth – no harsh cleaners!
Keep your furniture away from direct sunlight and heat sources. Sunlight can cause fading and cracking, while heat can be detrimental.
Also, use leather conditioning products to restore moisture and prevent drying out. Follow the manufacturer's instructions and nourish the leather.
With proper care, you'll cherish your leather furniture for years to come. Protect it from sunlight and heat, and moisturize it periodically. Enjoy its beauty and comfort for generations!
Discover: How To Take Care Of Faux Leather Sofa
Precautions Before Cleaning
If you have leather furniture, there are some precautions to take to keep it looking beautiful. Follow these steps:
Get rid of dust and debris with a dry cloth or vacuum cleaner with a soft brush attachment.
Spot any spills or stains and remove them. Blot the area with a damp cloth, but don't rub it.
Test any cleaning products in an unseen area of the furniture first. Wait for it to dry before using the product.
Use gentle cleansers made for leather surfaces and use a soft cloth or sponge.
Also, remember prevention is key. Regularly dust and vacuum the furniture. Avoid direct sunlight and heat sources, as they can cause fading and drying.
For tough stains and damage, consult professionals who specialize in leather furniture care. They have the know-how to restore beauty effectively.
Regular Cleaning Routine
Caring for leather furniture is vital to keep it looking beautiful and long-lasting. Here is a 5-step guide to help you with your cleaning routine:
Begin by dusting off the furniture with a soft cloth or brush. This will stop dirt and particles from scratching the leather.
Dilute a mild soap or leather cleaner with water, as per the product instructions. Take a clean cloth, put it in the solution, wring out extra liquid, and wipe down the furniture in circles. Test the cleaner on a small hidden spot first to make sure it doesn't damage or change the color of the leather.
After that, dampen another cloth with clean water and wipe away any soap residue. Don't over-wet the leather as too much moisture can harm it.
To keep your leather furniture looking its best, apply a special leather conditioner with a separate cloth. This will nourish and moisten the material to prevent it from drying out and cracking over time.
Finally, buff the furniture with a dry cloth to bring back its natural shine and get rid of any leftover moisture. This also helps maintain the luxurious feel of your leather furniture.
Extra Tips:
Refrain from using abrasive cleaners, harsh chemicals, or too much water when cleaning leather furniture.
Don't keep the furniture near direct sunlight or heat sources as it can cause fading and drying of the leather.
Vacuum regularly between cushions and cracks to remove hidden debris.
Now that you know the importance of keeping your leather furniture in good condition, I'd like to share a story that illustrates this perfectly:
Remember, a little effort goes a long way in preserving the elegance and resilience of your leather furniture. So, follow these steps and enjoy your luxurious investment for many years!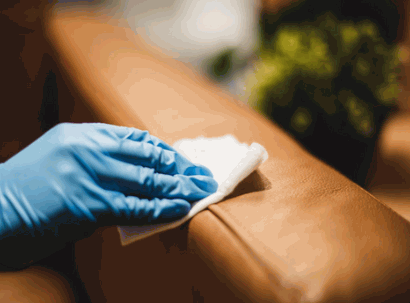 Dealing With Spills And Stains
Spills and stains happen often on leather furniture but can be managed with proper care. Here's a 6-step guide to help you:
Act fast: As soon as you spot a spill or stain, take action quickly to stop it from setting in.
Gently blot: Use a clean cloth or sponge to dab the stain. Do not rub too hard, or it will spread the spill further.
Use mild soap & water: Mix a bit of mild soap with warm water. Dip a clean cloth in the mixture, then gently clean the stained area.
Rinse with distilled water: After cleaning, rinse the area with distilled water to get rid of any soap residue.
Dry naturally: Let the leather air dry, in a well-ventilated space. Don't use heat, as it can damage the material.
Apply leather conditioner: Once dry, apply a high-quality leather conditioner to restore softness and protect against future stains.
Plus, remember these details when dealing with spills and stains:
Wipe them off quickly: Use a clean cloth to wipe spills right away, before they can absorb into the leather.
Keep pets away: Pet claws or sharp objects can puncture or scratch the leather, leading to staining.
Use covers: If you have kids or host guests, use removable covers to protect your furniture from stains & spills.
Follow these tips to keep your leather furniture looking great for years!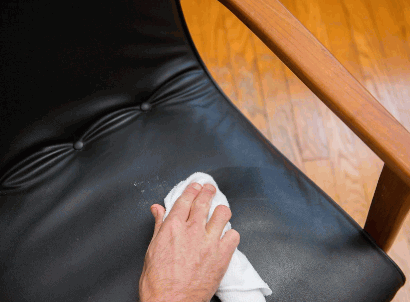 Conditioning And Moisturizing
Keep your leather furniture quality high by conditioning and moisturizing it! Here's what to remember:
Use a high-quality conditioner. Applying conditioner regularly helps keep the natural texture of your furniture.
Don't use harsh chemicals. They can damage the protective coating, causing dryness and cracks. Use mild cleaners designed for leather.
Circular motions. Massage the conditioner into the surface of the furniture in circles. This lets the leather absorb it better.
Be careful not to over-saturate. Too much conditioner can leave a greasy residue.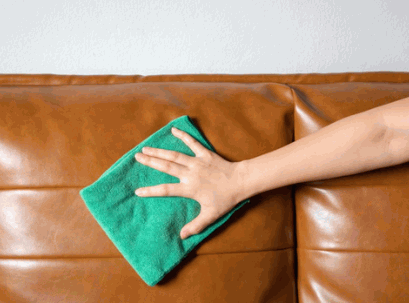 Preventive Measures
It's crucial to take preventive measures when caring for leather furniture. To keep it looking its best and ensure its longevity, here are some key points:
Keep away from sunlight: UV rays can cause the leather to fade and crack. Place furniture away from windows or use curtains/blinds to block the rays.
Treat spills and stains promptly: Use a clean cloth/sponge to gently blot the area, without rubbing.
Avoid harsh cleaners: Strong cleaning agents can damage the leather. Stick to mild soap and water or specially formulated leather cleaners.
Dust and vacuum regularly: Use a soft, dry cloth or a vacuum cleaner with a soft brush attachment to remove dirt and debris.
Plus, a few extra notes:
Limit pets' access: Claws can scratch and puncture the leather.
Maintain proper humidity: Low humidity can dry out the leather, so use a humidifier in dry months.
Rotate cushions periodically: This prevents excessive wear on specific areas.
Dealing With Scratches Or Damage
Managing those pesky scratches and damages on your leather furniture can be a real challenge. Not to worry, these tips will help you out!
First, determine how severe the scratch or damage is. For minor ones, use a leather conditioner with a clean cloth. Rub it in circular motions to moisturize and blend the scratch.
If it's deeper, get a leather repair kit. It'll contain a filler which you should apply according to the instructions. Use a color-matching dye or pigment to restore the original color.
If it's a complex repair, it's best to call in a leather furniture repair specialist. They have the tools and expertise.
Preventing damage is key. Don't place sharp objects on the furniture. Trim pet nails and establish rules about where they can climb or play.
By following these tips, you'll maintain the longevity and appeal of your leather furniture.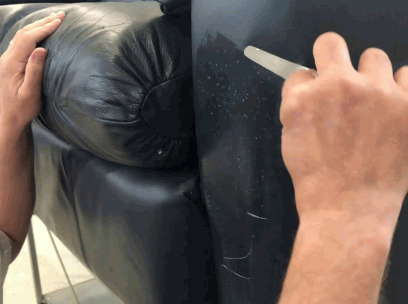 Conclusion
To maintain leather furniture, regular cleaning, and conditioning is essential. Keep sharp objects and direct sunlight away. Pets should be kept away too; this prevents scratches and tears.
Use a leather cleaner specifically for furniture. Apply conditioner every few months to keep the material soft and supple. Stains need addressing immediately. Blot with a clean cloth and mild soap solution. For tough stains, get professional help or use specialized removers that are safe for leather.
Dust the furniture with a soft cloth or brush. This stops dirt and debris from settling. Position the furniture away from heat sources like radiators and fireplaces to prevent drying out and fading.
By following these tips, you can keep your leather furniture in excellent condition. Read the manufacturer's instructions for specific care recommendations based on the type of leather used.