Epoxy flooring is usually used on concrete, but can it be used on wood? Let's explore this interesting question!
Wood surfaces have a special beauty, but they are vulnerable to damage over time. Epoxy flooring, however, is known for its strength and resilience to heavy foot traffic. So, can these two elements come together?
Yes! Epoxy flooring can be used on wood surfaces. However, there are certain things to consider. The condition of the wood is key in determining if it is suitable. Damaged wood may not be stable enough for epoxy coating, so repairs or replacements may be needed.
Surface preparation is also essential to get the best results. The wood needs to be cleaned and sanded for good adhesion between epoxy and wood. All existing finishes or coatings should be removed before applying the epoxy.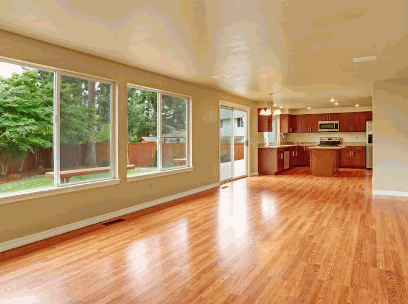 What Is Epoxy Flooring?
Epoxy flooring is a great choice for many residential, commercial, and industrial settings. It involves applying a smooth, glossy, protective coating to floors. It's created from epoxy resin and a hardening agent that chemically combines. Check out the key characteristics in the table below!
| Key Characteristics | Description |
| --- | --- |
| Durability | Chemical, impact, and abrasion resistant |
| Aesthetic Appeal | High-gloss, with customizable colors |
| Easy Maintenance | Easy to clean and maintain |
| Versatility | Can be applied to concrete, etc. |
| Longevity | Can last years with proper care |
Epoxy flooring also provides excellent protection against moisture damage due to it creating an impermeable barrier. This makes it suitable for areas with spills or high humidity. Plus, it's seamless, which stops the accumulation of dust, dirt, and allergens – making it great for residential and commercial spaces.
If you want to use epoxy flooring on wood surfaces, take note of these tips:
Surface Preparation: Sand the wood to remove any coatings or imperfections. This will make it easier for the epoxy to adhere.
Primer Application: Use a primer specifically designed for wood surfaces before applying the epoxy. This enhances adhesion and seals the pores.
Moisture Barrier: Use a moisture barrier layer beneath the epoxy coating. This will prevent warping or rotting due to moisture.
Regular Maintenance: Clean and maintain your wood epoxy flooring regularly. Avoid harsh chemicals or abrasive cleaners.
By following these suggestions, you can ensure the successful application of epoxy flooring on wood. You'll get beautiful, durable results for residential and commercial spaces!
Dig Deeper: How To Epoxy Floor Garage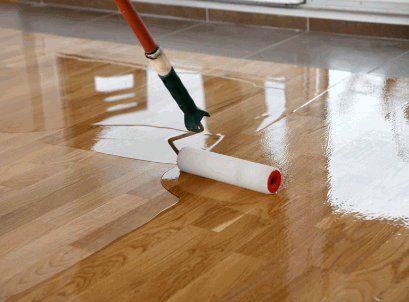 Benefits Of Epoxy Flooring
Epoxy flooring offers numerous advantages for wooden surfaces. It provides durable protection, is resistant to spills, and has a smooth, seamless surface that's easy to clean. Plus, it comes in a variety of colors and finishes to fit any style.
Epoxy also stands out due to its strong adhesion and abrasion resistance, as well as a glossy finish that can enhance the wood's appearance. Even better, Home Flooring Pros report that epoxy coatings can extend the service life of wood floors by up to thirty years!
Can Epoxy Flooring Be Used On Wood?
Epoxy flooring – a hit for industrial and commercial areas – can be used on wood too! It's strong and protective which makes it great for wooden surfaces that need extra strength and life.
It not only guards against stains, chemicals, and daily wear and tear – it also gives the wood a seamless and glossy look. By using epoxy coating, the flooring is safe from moisture, rotting, and warping.
Plus, epoxy flooring has endless creative possibilities. With a range of colors, patterns, and finishes, you can turn your wooden floor into something special. Whether you like modern or rustic, you can get the look you want while protecting the wood.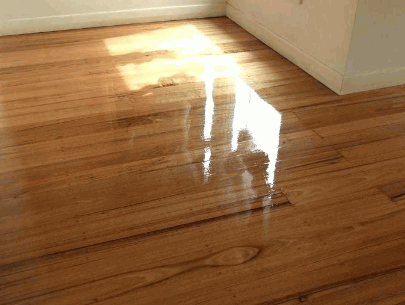 Steps To Apply Epoxy Flooring On Wood
Epoxy flooring can be applied on wood surfaces, for a great result! Here's how:
Prep the surface: Clean and sand the wood, ensuring no damage or loose boards.
Prime the wood: Use a roller or brush to spread on primer designed for wood surfaces. Leave to dry.
Coating time: Mix the epoxy resin and hardener according to instructions. Pour a small amount onto the wood, and spread it with a roller or squeegee. Allow each coat to dry before applying the next.
When using epoxy flooring on wood, account for temperature and humidity changes. Pick an epoxy coating that is flexible enough to handle these changes.
Also consider:
Using an epoxy designed for wooden surfaces.
Avoiding sunlight exposure on outdoor wood.
Ventilating during application and drying.
Adding an anti-slip additive in areas prone to moisture.
By following these steps, you can apply epoxy flooring on wood surfaces for a long-lasting, attractive finish!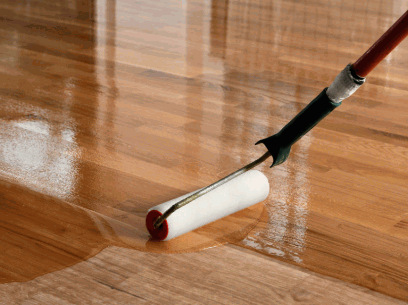 Tips And Precautions For Using Epoxy Flooring On Wood
Epoxy flooring can work on wood, but some tips must be taken into account. Firstly, sand the wood and make sure it is dirt and grease-free. This helps the epoxy stick better.
2. Use a primer for epoxy on wood. This improves adhesion and avoids potential damage to the wood. Plus, pick an epoxy that is suitable for wooden surfaces; some varieties may not be compatible. Lastly, put multiple coats of epoxy for a strong, lasting finish.
In brief:
Sand and clean the wood first.
A primer for epoxy on wood increases adhesion and protection.
Choose epoxy compatible with wood.
Put multiple coats for lasting results.
3000 BC Egyptians used epoxy-like substances made from stuff like beeswax and resin on their wooden furniture to guard against moisture and wear. This proves the long-term efficiency of using epoxy on wood surfaces.
Conclusion
Epoxy flooring? Yes, it works on wood surfaces! It offers a long-lasting solution and a seamless finish. This creates a barrier that increases the strength and durability of the wood, protecting it from stains, scratches, and moisture damage.
Assess the condition of the wood first to determine if epoxy is suitable. If it is structurally sound and free from major cracks or damage, prepare the wood by sanding it to create a rough texture for better adhesion.
Epoxy is versatile and can be customized with different colors, patterns, and even embedded objects. Plus, it's easy to clean and maintain – just sweep and mop regularly.
Take advantage of epoxy flooring to transform your wood floors. Explore the possibilities of epoxy design options and enjoy the benefits of its protective properties. Enhance the aesthetics and functionality of your wood floors today!