Everyone dreams of a beautiful home. We all flip through magazines looking at beautiful home interiors, their wallpaper, well-curated sofas, and cushions. Not all of us have a lot of money to splurge on expensive architectures, wall arts, etc. to make our home beautiful. Giving a modern, classic touch to your home is trying on a tight budget. But there are few techniques shared by interior designers that can make any home elegant without spending a bundle.
Let's look at a few tips and tricks to make your home look elegant on a budget.
1. Crown Molding
You can change the decor of any room dramatically by crown molding. Crown moulding is a stylish decoration to your home that can make it look high-end in an instance. It adds definition and a historical flavour to a room. Without this, the place seems unfinished. The plastic and paintable crown mouldings are very economical.
By adding crown moulding to your wall, it adds an impression of a taller and larger room. For a seamless look of crown moulding, make sure that while installing, it gets the right cuts at the right angles. You can use crown moulding in kitchen cabinets, shelves, bedroom headboard, around the mounted TV, etc.
2. Wall arts
Hanging art or photo frames on a wall can spice up the entire room. Before deciding on wall art, you must decide on the wall on which you want to place it. An excellent trick to choose the size of wall art is the width of the wall, minus 5-10 inches on each side. If you have a massive empty wall, then instead of buying a huge wall art piece(which can be expensive), buy pieces that you can display as collages.
Wall arts come in different forms like framed art, unframed canvas, metal objects, and sculptures. Get creative with your wall by making your art and get it framed at a local craft store. Wall art can be soothing, and relaxing to have in the home. To read more about mindful interior design; click here.
3. Higher ceilings
An inexpensive way to make a room look spacious and open is to give an illusion of a higher ceiling. You can give this illusion by raising the window panels. Mount the window panel just below the ceiling and add a fabric that compliments the wall. Let the fabric hang down to the floor.
Choose the color of the window panel similar to the ceiling. Doing so prevents any separation line between roof and panel. Another way to create an illusion of a higher ceiling is to go vertical. When the arts you hang in your room are taller than in width, it creates a difference.
4. Lighting
Make your home attractive by giving the right lighting. It is a refreshing change to see your room in new lights. A small yet significant difference in the brightness of your room is an easy and inexpensive method to add elegance to your home. Add designer chandeliers instead of the standard lightings.
You can get high-end chandeliers at an economical price in the flea markets and second-hand stores. You can give a high-end modern makeover with some creative tricks. Use a drum shade as a chandelier to get a custom look lighting. Adding fresh paint can make dull lighting, look like a new one. Increase the type of lights like table lamps, floor lamps, or LED wall lights around the home adds more elegance.
5. Declutter
De-cluttering your space is a simple way for a distinguished home makeover. The most affordable ideas for a beautiful home is to regularly clean and de-clutter your space. Regular vacuuming and dusting of pillows, lighting's, accessories, flooring, paint, rugs, etc. will make your room look brighter. Create some space in your home by getting rid of old, stained carpets, which gives a warm and welcoming appeal to the place. Also, clean the windows to let in natural, bright light fill the room.
6. Paint and wallpaper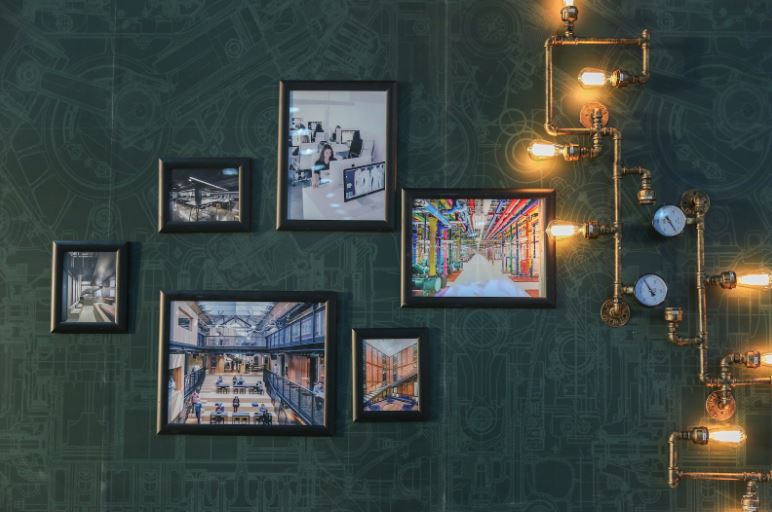 Painting the walls is a budget-friendly way to get a high-end looking home decor. Choose a color palette of one-two colors that flows throughout your room. Using primary one-two colors will reduce the waste of paint. Make sure that the two colors compliment each other and go with the furnishing in your home. Wallpapers are an excellent alternative instead of paint in flat areas. To keep the walls looking classy, choose a wallpaper that has a lustre sheen, glossy hint to it.
7. Focus on faucets
Do not ignore the bathroom. Wallet-friendly changes in the bathroom by displaying little artefacts can make a huge difference. Add a mirror with intricate designs, shower curtains, towel bars, good quality mats, and soap cases that will change the look of any small, dull bathroom. Keep the bathroom wall colours neutral to highlight the artefacts.
Conclusion:
The above seven tips are economical ways to transform your home. Before starting to change the decor of your home, check your budget. Plan everything according to your budget. Shop from small stores, instead of malls. Look for room decor, inspirations on Instagram and Pinterest, which will help you in finalizing a look for your home. Let your creativity flow in, and you will be surprised to see your house elegant and beautiful in a budget.